!!! WE HAVE PUPPIES (LITTER D) !!!
All puppies are reserved
1.4. 2012 Daisy gave birth to 5 lovely puppies (2 boys a 3 girls)
The birth was quick and beside the complication with the first puppy, it was without problems. The puppies were very big and as it usually happens, the first puppy to be delivered was the biggest one (584g). It also had a wrong delivering position, so it took quite long time before the dog was born. However, it was too late for him already. The rest of the puppies were born quickly and they are all OK.
Daisy proved herself to be a very good mother. She has enough milk a she takes excellent care of her first little ones. The babies are lively and lovely, they like Daisy´s milk and all of them have at least partly pigmented paws. Both males have even their noses pigmented - the green one partly and the blue one fully.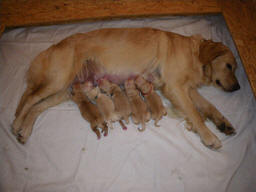 | | | | | | |
| --- | --- | --- | --- | --- | --- |
| Order | Time | Sex | Ribbon color | Weight (g) | Color |
| 1 | 11:22 | dog | blue | 561 | rich gold |
| 2 | 11:41 | bitch | pink | 567 | rich gold |
| 3 | 12:03 | bitch | orange | 487 | rich gold |
| 4 | 12:28 | dog | green | 556 | gold |
| 5 | 13:22 | bitch | red | 474 | rich gold |
Photogallery
parents:
Clever Daisy Pouštní vítr (Daisy) Windwhirl Early Heart Even (Even)
29.1. 2012 - mating of Daisy and Even
21.2. 2012 - the gravidity was confirmed by ultrasound
Něco málo o rodičích:
Daisy is a gold bitch that we kept from the third litter of our Annie. She is active, sensitive, and she has great working skills which she proved on several hunting exams. Her both parents are working champions and they are still actively working. Daisy is healthy, she has all teeth and scizor bite, healthy heart and thyroid and she doesn´t have any stomach or other problems. She is not a carrier of eye diseases (both parents have clear DNA test) and she has HD and ED A/A (all her siblings have also x-rayed joints with the result of 7x HD A/A, 1x HD B/B and 8x ED A/A).
Even is a very nice dog with typical golden color. He is very succesful at shows (Swiss and German champion) and has perfect, calm and absolutely non-aggresive character (he has succesfully past a quite tough german character test - a condition for becoming a stud dog in Germany). He is also healthy, with scizor bite, all teeth, healthy heart and eyes, he also doesn´t have any stomach or other problems and he has HD and ED A/A like Daisy (from his 8 sibling has hip and elbow x-rays 6 with the results of HD 3x A/A, 2x B/B and 1x C/B and ED 6x A/A).
You can find more information about Even on
http://www.golden-heart-even.de/ and about his parents on http://www.jewelhope.ch/
We hope in healthy puppies with nice golden color, typical retriever character and good working skills.
We will be happy if we see our puppies on some dog shows or exams in the future, but the most important for us is to find them a good home with loving care, enough activities, games etc and to have a lasting contact with their new owners.
Our past litters :
3.5.2006 LITTER A (Annie ze Sechova + Vasco Valentino Bohemia)
17.11.2007 LITTER B (Annie ze Sechova + Samuel Chlupaté štěstí)
28.4.2010 LITTER C (Annie ze Sechova + Kerry Chlupaté štěstí)