NEWS
15.4.2012 Our little ones celebrate today exactly 2 weeks from their birth. They are amazing, except the red bitch, all of them have more than 1700g, they try to walk more and more and they also started recongizing the surroundings and siblings by nibling them. Their nice golden coats are like sun and when they don´t like something, they are able to bark. In the single photogallery are their latest photos.
14.4.2012 Today we had 3 our puppies on national show in Ostrava. Unfortunately the judge was Mr. Janega who not only prefers slovak dogs or owners and more than the dogs quality is for him important whether the handler is a man or a nice looking woman, but who also doesn ´t like the golden color of golden retrievers, so all our dogs received VG. Caesar VG1, Carry VG2 and Carrie-Ann even VG without the placing, eventhough in her class were only 3 bitches. We thank very much the owners for going there and we hope that they will not be discouraged by one such judge.
Our puppies still more sleep then are awake but they are more and more trying to stand up. However they usually start trying under the protecting lath and then get upset that it is not possible. There are new photos in the photogallery.
12.4.2012 Puppies in the delivery box still mainly eat or sleep, with the difference that now they can see - well, it´s not exactly seeing, they have their eyes opened, but they probably don´t see much, yet. Daisy already tried feeding puppies when sitting, but the little ones still prefer feeding when lying. There are again new photos it the photogallery.
11.4.2012 Since today we know the names and the tattoo numbers of our puppies. We don´t know who is who, yet, but the tattoo numbers will be 15331-15335 and names chosen by future owner of our puppies are: Daisy´s Jeff, Denny, Dessie, Desirée a December.
10.4.2012 Today is s day full of progress for the puppies. Both boys partly opened their eyes and girls made first few steps - especially orange girl is good at it - we had a big luck and in the photogallery is the photo of her walking.
9.4.2012 Today we cut the claws of the puppies for the first time, because they already started to scratch Daisy when feeding. We did it immediately after eating, so they were all sleeping during the procedure. There are new photos in the photogallery.
8.4.2012 Our litter D has exactly 1 week and they seem to like their life. All of them are taking good care of having full stomachs and they already doubled their weight. They are also already trying to stand up, but they are still too small, so nobody have made a step yet. Much better results has their voice training, sometimes it even resembles barking. There are new single photos in the photogallery.
6.4.2012 We changed the color ribbons for nice dog-collars. You can see them in the photogallery of puppies.
5.4.2012 Our best TV channel is watching our noisily eating or sleeping little ones. However, they can be also very active - they are very fast when trying to find the milk.
Today´s photos have a name "Sleeping collection".
4.4.2012 All puppies are taking good care of having full stomachs and they are training their voices - the best time for it is around 2am. There are new photos in the gallery.
3.4.2012 Just today is our Annie celebrating her 8th birthday. Annie, we wish you all the best to your senior age and we hope that you will have yet a long and happy life with us.
Puppies are shifting continuously from feeding to sleeping mode and opposite and they are loosing rests of the navel cords by now. We made a new photogallery with photos of single puppies.
1.4.2012 There were born 5 healthy and nicely gold puppies from mating Daisy and Even. 3 girls and 2 boys are doing well and Daisy too. More in the puppies section.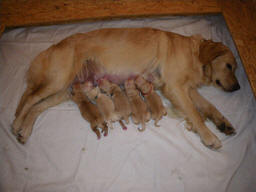 25.3.2012 We have a few news for the past month, which we didn´t have time to put on the webpages due to the wedding and its preparation.
The first is, that Daisy is getting bigger and bigger, everything is going fine and we hope that by the end of the week, we will have the delivery box full of Daisy´s little ones. In the meantime Daisy is getting used to the delivery box and we are preparing all the needs.
The second news is that our skillful Carrie-Ann succesfully passed cannisterapheutical exams with full points. Great congratulations to Carrie-Ann and her owner and we wish them lot of other success.
And the last one is that Even (daddy of our expected puppies) has became an Austrian champion of beauty and also gained aword TOP WINNER of Switzerland. Congratulations to Even and his owner.
21.2.2012 The long time expected day just became and we went to ultrasound confirmation of gravidity with Daisy. everything was as we hoped, so we can look forward to the end od march and expect Daisy´s first puppies.
29.1.2012 we went to Germany to mate Daisy with Even (Windwhirl Early heart Even), Even behaved as a real gentleman and liked each other very much, so we hope in the ultrasound confirmation of Daisy´s gravidity at the end of february. You will find more information in the puppies section.
20.12.2011